■The Shin-etsu Trail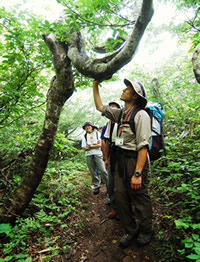 The Shin-etsu Trail runs along the ridge of the Sekida Mountains, forming the boundary between Nagano and Niigata Prefectures. Located around 1,000m above sea level, it is one of the few long trails of Japan. Historically, there were 16 passages through the mountains that connected Nagano with Niigata (traditionally called Shinano and Echigo, respectively). These passages were used for carrying salt and sea-products from Niigata, and Uchiyama paper and mustard seed oil from Nagano. The famous warlord Kenshin Uesugi is said to have led tens of thousands of his men through these passages to fight the Battle of Kawanakajima. Today, this area is blessed with a rich ecosystem, including magnificent Japanese beech tree forests. It takes 6 days and 5 nights to hike all courses of the trail with overnight accommodations. For those who prefer tent camping, the entire trail can be completed in and it 5 days and 4 nights.
■The Shin-etsu Trail Club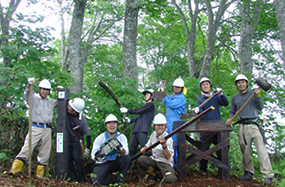 The Shin-etsu Trail Club, formed on January 16, 2004, is a nonprofit organization accredited by Nagano Prefecture. Our mission is to manage and maintain the 80km long trail that stretches over the Sekida Mountains, as well as support and introduce its beauty to wider audience. Additionally, we try to educate people on the importance of the trail's natural surroundings, most notably the magnificent Japanese beech tree forests, along with local history and culture.
Our Mission
The Shin-etsu Trail Club sets and practices the following missions objectives in order to protect the Sekida Mountains, an invaluable natural asset, for the future generations:
Preserving the Eco-Diversity
We monitor the ecology surrounding all living things in the Sekida Mountains, not limiting ourselves to a particular species. We continue to research and observe, making sure to avoid placing any unnecessary or unintentional stress on the ecosystem.
Continuing the Traditional Culture and Sustaining Nature
The traditional culture of this area has been shaped by the heavy winter snowfalls (one of the heaviest in the world inhabited by people), as well as the exchange between seaside and mountainous lives. We consider this culture, closely tied with its natural environment, to be an irreplaceable heritage, and will continue to learn from, share, preserve, and develop it.
Contributing to the Local Area by Promoting Exchange Between People
We promote local services to visitors, including transportation, accommodation, and guides, thus encouraging exchange and ensuring that the beauty and uniqueness of the Sekida area are well understood by those who visit.
Our Activities
The scope of our business covers the following activities:
Maintenance and management of the trail.
Forest management.
Encouraging exchange between different localities.
Educational and ranger activities relating to environmental protection.
Instruction of proper hiking rules and mountain conduct, as well as the promotion of local tourist information via pamphlets and our website.
Environmental education regarding the surrounding nature and forests.
Research and monitoring of the surrounding endangered species.
The dispatch of guides and nature observation instructors.
Organizing eco-tours, hiking trips, symposiums, etc.
Management and utilization of local rest houses and public rescue huts.
Establishing a coordination and liaison network with local authorities, management organizations, land owners, and volunteer groups.
Education for nature interpreters, guides, and the like.
■Reviews
We held a trial trekking tour on September 24 and 25, 2016. These are hiker's reviews :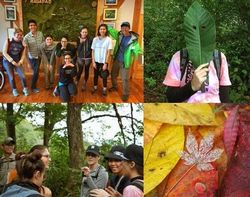 "The trail was beautiful and very fun. I enjoyed the scenery and it was very relaxing. I enjoyed the trail and also the guides, who were knowledgeable and helpful with any difficult parts of the trail."

"I would definitely recommend the trail to my friends. You can learn a lot about the Shin-etsu Trail and trekking in Japan, and it is a beautiful hike."

"It was very interesting hearing how people climbed mountains to trade resources between Nagano and Niigata. "

"I thought that it was particularly fascinating to learn about the history of the trail as well as the different kinds of vegetation growing there." "It's really beautiful and was full of all sorts of interesting plants. It was nice to be able to eat some of them. The trail was a bit slippery, though."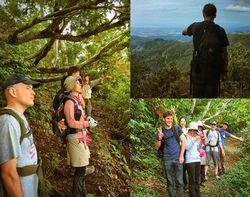 "It's really beautiful and was full of all sorts of interesting plants. It was nice to be able to eat some of them."

"This was a really enjoyable trail that was good exercise without being too strenuous. I appreciated how peaceful it was, and it ended up being quite a nice relaxing hike. The scenery also changed a lot, which kept things interesting."

"The trail was very interesting with good views. I think the trail project is excellent, and I was really happy to see efforts being made to create a new footpath. I had a great time."

"The trail is a stunningly beautiful hike through Japanese mountains. There were great views of the sea, lakes, the Nagano countryside, and the natural beauty of the forest and mountains. "


Yamnuska Mountain Tours (Canada) held a thru-hiking tour in Oct 2016.
This video was recorded by a a participant.
<< A website review (Japan Travel.com) >>
<< A website review (Outdoor Japan) >>
<< A website review (Authentic Visit Japan) >>