2023年6月10日現在

このページでは、信越トレイル本線(セクション1~10)の最新状況について確認できます。
On this page, you can check the latest conditions of the Shin-etsu Trail main route (sections 1-10).

【NOTE_1】
信越トレイルは、無雪期において安全に歩けるよう管理されています。
ハイキング可能な時期等、信越トレイル公式HPのFAQに詳しい情報が掲載されていますので、必ずご確認ください。
The Shin-etsu Trail is managed for safety during snow-free periods.
Please be sure to check the FAQ on our official website for detailed information on when you can hike the trail.

【NOTE_2】
信越トレイルクラブによるルート点検は、5月下旬~6月中旬にかけて予定されています。そのため、現時点において把握されているトレイル状況は一部のみです。
Route inspections by the Shin-etsu Trail Club are scheduled from late May to mid-June. Therefore, only a portion of the trail condition is known at this time.
---
---

Impassable portions

該当なし
N/A
---

Be careful when passing through

■ ③-25付近│Near ③-25 (Section 3)

下記エリアにて、国有林内の間伐作業が行われます。
この作業による通行規制はありません。
作業期間内はチェーンソーの音などの騒音が発生する場合があります。

【作業区間】③-24~③-25の間の国有林内
【作業期間】5/19~終了未定※
※トレイル沿いは一週間程度で終了、同エリア内で3か月ほど作業予定

Thinning work will be conducted in the following areas in the National Forest.
There will be no traffic restrictions due to this work.
Noise such as the sound of chainsaws may be heard during the work.

[Working Section] In the national forest between ③-24 and ③-25
[Working Period] May 19 – end undecided*
*The work along the trail will be completed in about a week, and work will be done in the same area for about 3 months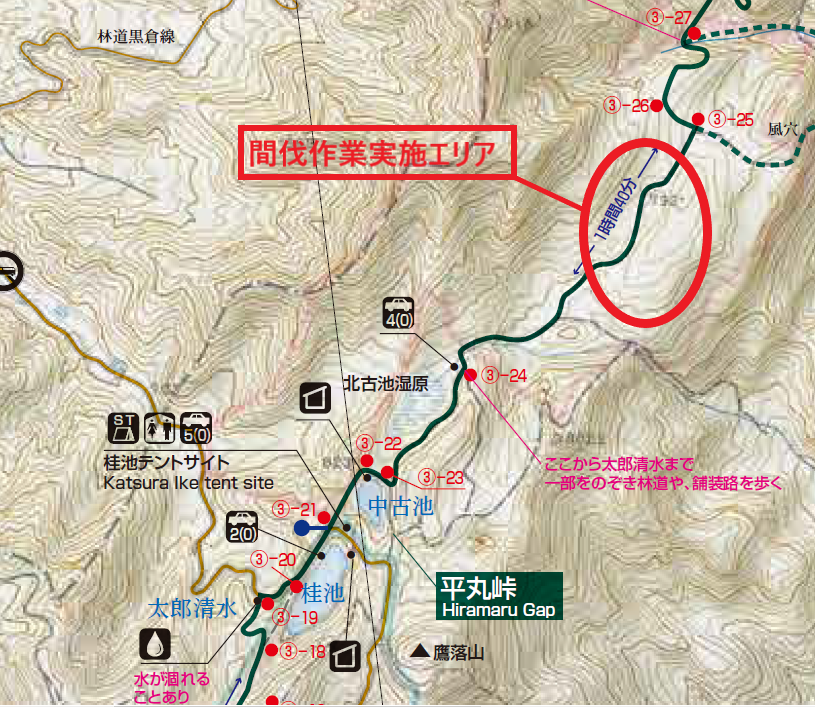 ■ 幻の池付近(⑤-12と⑤-13の中間)│Near Maboroshi no Ike pond (between ⑤-12 and ⑤-13)

ルート上に大きな倒木あり、 道が不明瞭な状態 、通行注意
(木の上を乗り越えれば通行可能ではありますが、 足元が不安定のため、無理をしないよう注意。)
※2023年6月15日(木) 集中整備にて処置を予定しています。
There is a large fallen tree on the route, and the trail is unclear
(It is passable if you climb over the tree, but be careful not to overreach due to unstable footing.)
*The route will be repaired during the maintenance on June 15, 2023.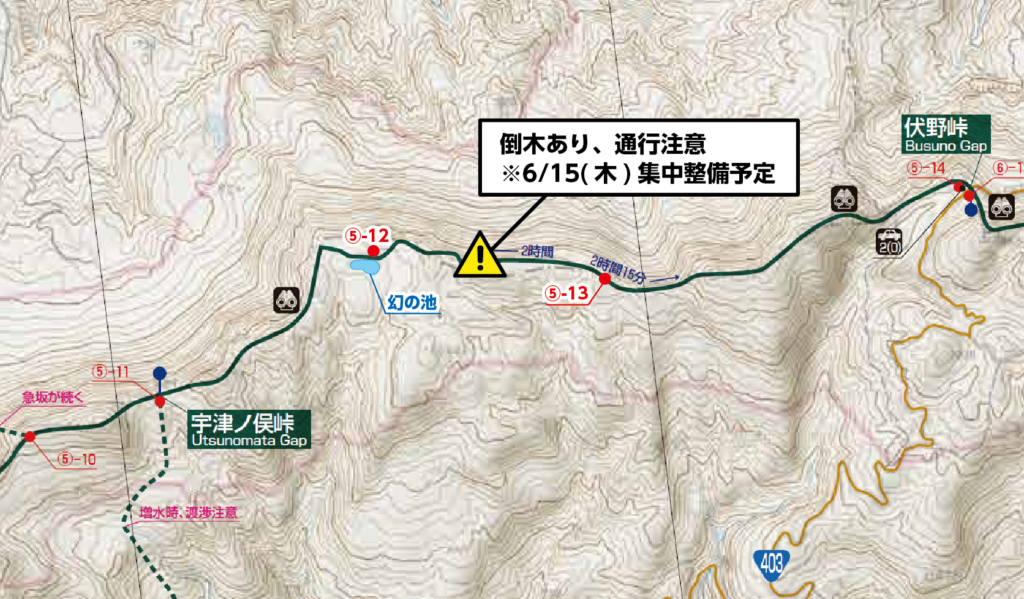 ■ 逆巻│Sakasamaki (Section 8)

上郷小学校西側、ルート上に倒木あり、通行注意
(木の下をくぐって通行してください。頭上と足元に注意。)
At the West of Kamigo Elementary School, there is a fallen tree on the route
(Please pass under the tree. Watch your head and feet.)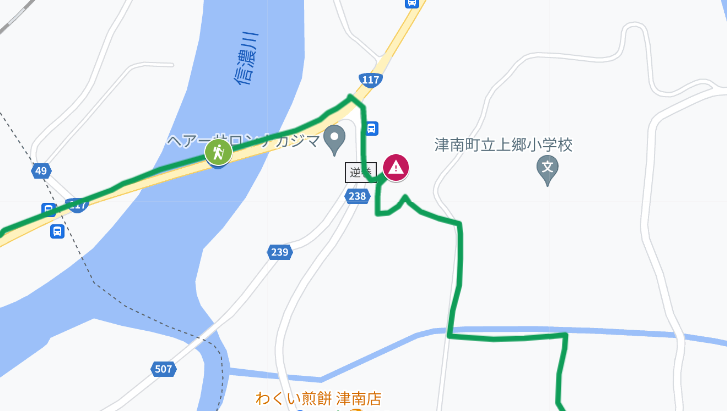 ■ 見倉トンネル上=旧草津街道│The Route above Mikura Tunnel (Section 9)

⑨-4~⑨-5区間、斜面崩れのため通行注意
2023年5月中旬整備予定
⑨-4 to ⑨-5 section, be careful to pass through due to slope collapse
Scheduled to be in service in mid-May 2023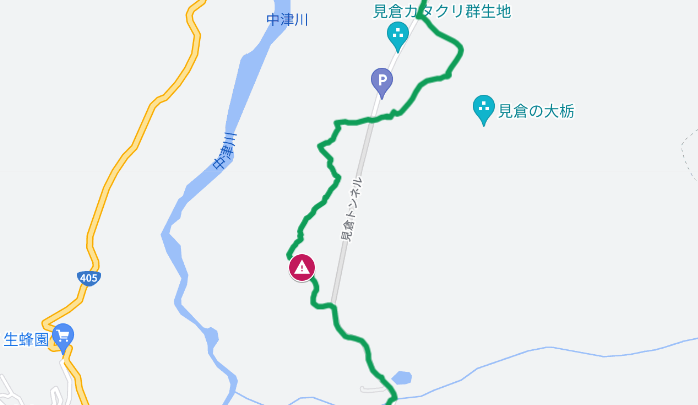 ---

Recovered

■ 見倉橋│Mikura Bridge (Section 9)

斜面崩落による通行止めは解除されました。
Road closure due to slope collapse has been lifted.