Section length: 12.7 kilometers Time required: approx. 6 hours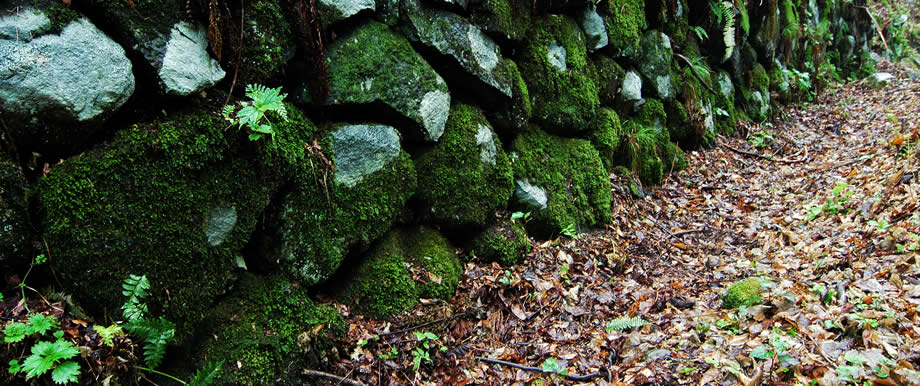 Section highlights
This section is full of highpoints, including historical sites such as Tomikura Tōge pass and the ruins of Taishojin; Mt. Kuroiwa, a beautiful nature feature and itself a designated natural monument; Katsura Ike pond with beautiful autumn leaves, and more. There are portions of ongoing travel through the forest, but also changing areas of beech and cedar forests and wetlands. There is a small, roofed shelter on Mt. Kuroiwa that offers not only a good spot for a break, but a sweeping view of the Iiyama basin and Chikuma River.
Key points
point

1

This section is a treasure trove of flora and fauna—but take only your memories back with you!
point

2

A long forest segment extends from Wakui to Mt. Kuroiwa. Going north from Wakui is a long, gentle climb, so be sure to take frequent breaks. The portion from Mt. Kuroiwa to the Mt. Hotoke ga Mine trailhead has many tough ups and downs.
point

3

There are few places to get water along this section, so be sure to bring plenty pf water. Taro Shimizu (a spring near Katsura Ike pond) may go dry in summer.
point

4

Large quantities of snow may remain on the portion of the Trail from Mt. Kuroiwa and Mt. Hotoke ga Mine trailhead, and the course may be unclear. You may have to traverse across the snow; carry a map and mountain equipment for the snow, and walk carefully!
Milestones
Wakui
The starting point for Section 2 and 3 is located on highway 292, and can be accessed by car.
Sobu no Ike pond
Access from the Nagano side is possible, but the approach is often in poor condition and should be avoided when making plans.
Katsura Ike pond
Access is possible from both the Nagano and Niigata sides. A toilet is available at the Katsura Ike tent site.
Tondaira
Accessible by car from Togari Onsen. Tent site is available. In the same area is the Togari Onsen Hoshifuru (Starry) campground; the facility's toilet may be used. From here, walk 30 minutes on the ski area to the Hotoke ga Mine trailhead.
Accommodations
Tent site
Accommodations
on the trail, within walking distance of the trail
Katsura Ike pond
Tondaira


Note: In the Tondaira area, the Togari Onsen Hoshifuru (Starry) campground is also available.
off-trail accommodations
Shinano-daira
Madarao Kōgen
Togari Onsen
Nozawa Onsen
Kijimadaira
jōetsu city
information on the trail and nearby facilities