Joining in maintenance is the next natural step after hiking the Trail. There's a different kind of joy in creating the Trail, and exhilaration in working in the mountains and a deeper connection with the area's natural world.
The unique experience of maintenance work on the Shin-etsu Trail
point

1

Experience heavy snows in the low mountains
●

The Sekida Mountains, through which the Shin-etsu Trail runs, is one of the snowiest places in the world, not just Japan! There can be eight meters of snow covering the ridges. The weight of the snow, and the action as it melts can tear down trees and branches, bend or twist signposts and wash away steps and stairs. Most restoration work is carried out in June, before the main hiking season begins.

●

The mountains tend to be at lower elevations, usually under 1,000 meters. This means that, as soon as the snows melt, the small buds that quickly emerge will be covering the Trail in no time at all. Cutting weed and trimming branches are the main work from July to September.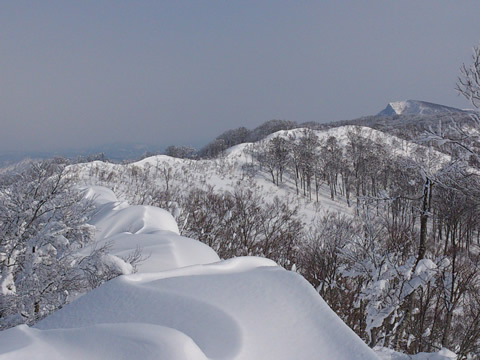 The Sekida Mountains in winter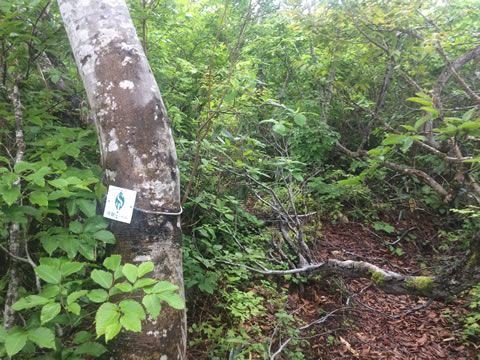 The trail after snowmelt but before maintenance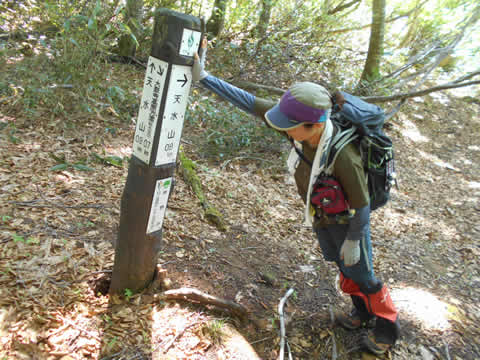 A signpost tilted by snow
point

2

A very careful maintenance method
●

The goal is to create a Trail as if it were scratched out gently with fingernails. Only the maintenance needed to make a path that one person can pass through will be done, with trees cut as little as possible. It's a handmade Trail, with as little impact as possible.

●

Motorized weed trimmers and chainsaws may be used where the Trail is overgrown or where large trees and branches have fallen. Not everyone works with motorized tools, though. Most branches protruding into the Trail can be cut back with pruning shears, and cut grass is gathered up by rakes. Everyone has a job that fits them, so men and women can all join in the maintenance work.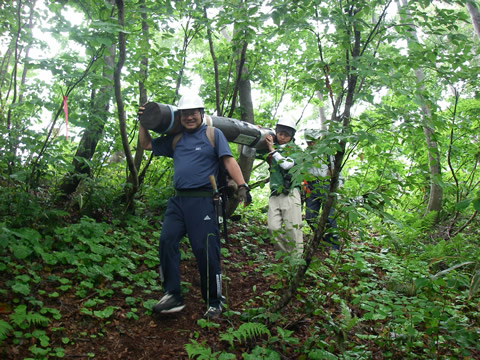 Most work is by hand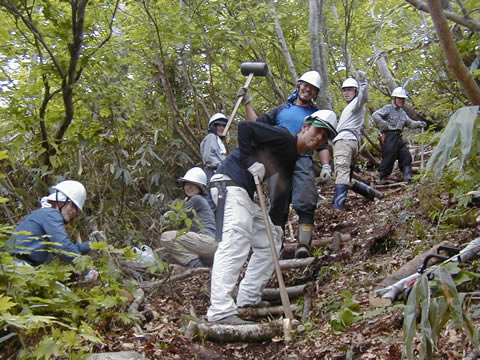 Fallen trees are used to make stairs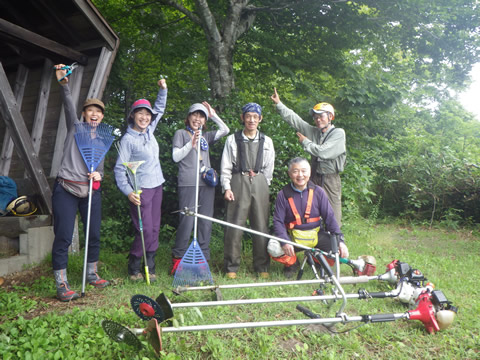 A break after maintenance work
point

3

It's a lot of fun!
●

There's a joy in building a Trail with your own hands. The team feels proud when they meet hikers during maintenance work. And when you've finished work, you'll want to invite other people to hike the Trail, too. You can then proudly say, "I built this Trail!"

●

A variety of people take part in maintenance. There are local people who want to contribute to the community; there are others who are interested in trail culture. Some have walked the Trail several times; others are familiar with the area and the vegetation. A lot of the fun is in the interaction between all these people.

●

If you participate in maintenance through the year, you'll come in direct contact with all four seasons on the Shin-etsu Trail. The remaining snow of early summer; the autumn leaves remaining until the first snows fall….Some people even look at maintenance as a way to hike with free transportation thrown in!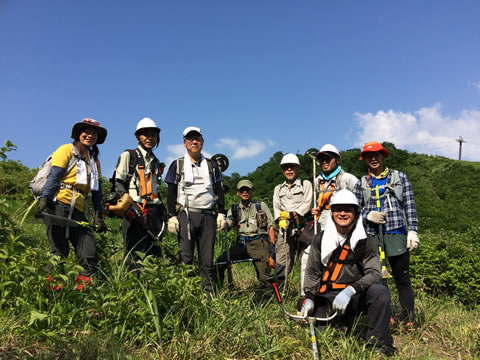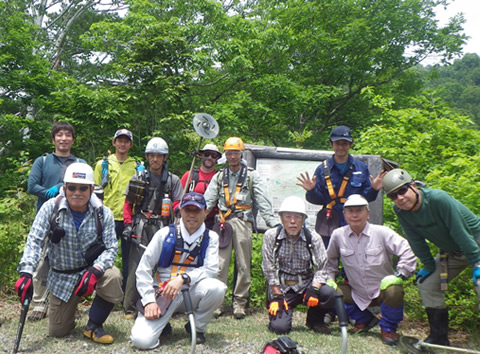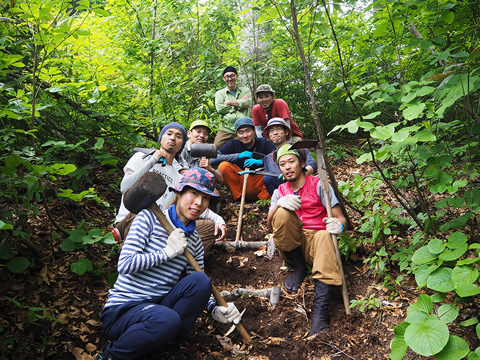 Comments from participants
I've been coming to the mountains for nearly 40 years, but it's only in the latter half of that time that I thought that the reason I've been able to have safe, enjoyable journeys in the mountains is because of the maintenance efforts of many people. That was one reason why I chose the Shin-etsu Trail when I retired—I thought it was not only attractive, but a place that I could continue to enjoy. My main maintenance activity is cutting back weeds, and I'm always struggling with the tough grasses. But working up a little sweat out there in nature is something that also refreshes both body and soul. I often think about the history of the Trail area while working, and I think it's great that we get to learn much about the importance of environmental conservation. I'm always looking at the Sekida Mountains from my home, knowing that I will continue to participate in maintenance. Thank you!

Male, Niigata prefecture, 60s

I'm really happy, because basically everyone is accepted and welcomed. There's a lot of fun and attractiveness in participating in maintenance, and I felt that I could really contribute to the maintenance and management of the Trail, which in turn built my attachment to it. While doing maintenance work I'm also secretly looking forward to being on my favorite sections of the Trail. The best thing really is the connections you make with other people who are also involved in the Trail. Everyone is interested in the Shin-etsu Trail, and that common affection for it ties us together. I got to know new people bit by bit, and am really looking forward to building my circle of connections even more through doing maintenance work. It's not only the Shin-etsu Trail, too, but this connection also has taken me to the Michinoku Coastal Trail. The reward really is in coming here and meeting with my maintenance colleagues.

Female, Gunma prefecture, 30s

I often go to the Shin-etsu Trail for trail running. So in return for being able to play in this favorite place of mine, I wanted to give back by participating in maintenance. These are really active times, and I'm surrounded by a lot of veterans who love the Shin-etsu Trail even more than me. They also provide great guidance, and that's more important than maintenance, really. Because of this, the maintenance activities are always fun, so I'm a repeater! As a runner, too, trail maintenance is great training. Walking all day with a mower really works up a sweat. So the Shin-etsu Trail and maintenance activities are now a part of daily life for me. My current goal for maintenance is get as many people as possible to like the Shin-etsu Trail.

Male, Niigata prefecture, 20s

People of all ages, genders, locations and jobs gather here because of their love for Nabekura, for long trails, and for the satisfaction of maintenance. You get hot and tired, but even when people are wet and muddy in the rain, for some reason they always smile and look happy—happy because the Trail is in order, and because they can find something to do without having to run a mower or having civil engineering skills. It's hard to find a place as fun as this.

Female, Tokyo, 50s
Main maintenance activities
Mowing
Branch clearing
Stair/step building
Installing and servicing signposts
Participating in maintenance
Application
Go to the event/maintenance calendar and click on the maintenance activity you'd like to take part in. Look over the details, then apply using the participation form. Fill in all required items, and send the completed application.
On the maintenance activity day
8:00~8:30

Meet and check-in at the Nabekura Kōgen Mori no Ie, location of the Shin-etsu Trail Club Secretariat. An explanation will be given of the day's maintenance content, the schedule, etc.
8:30

Depart for maintenance site, using Shin-etsu Trail Club vehicle.
About 9:00

After explanation of maintenance methods and safety, maintenance activities begin.
Around 15:00~16:00

After maintenance is completed, return to Nabekura Kōgen Mori no Ie. Group takes a break before disbanding.
To bring
Clothing appropriate for mountain work (long-sleeve shirt, long pants, etc.)
Rainwear
Cotton work gloves
Non-slip trekking shoes
Backpack
Lunch
Water or other fluid (one to two liters—more especially during hot summer periods)
Sunscreen
Insect repellant
Insurance
While the Shin-etsu Trail Club does provide insurance in case of injuries, it is also recommended that participants also take out insurance in order to guarantee coverage in case of injury. One-day policies are available on the Internet or at Japanese convenience stores. For details, see the policies of the individual insurance companies.

■Covered by Shin-etsu Trail Club injury insurance
Death: ¥2 million
Hospitalization: ¥3,000/day
Outpatient care: ¥2,000/day
Other details
The maintenance activities for a given day will be decided in advance, but this may vary depending on factors such as the weather, the number of participants, etc. But get ready to enjoy a day out on the Trail!
For more information, please see the FAQ section. If you have any questions, please contact us using the Inquiry Form.
It takes many people to maintain a long-distance trail, and the environment around it. We have received the cooperation of many people ever since the opening of the Shin-etsu Trail, including the national government, Nagano and Niigata prefectures, nine local municipalities, local organizations and companies and many individuals.
The Shin-etsu Trail will continue be to be used by a great many people over the coming 50 to 100 years. Many connections have been built by the Trail, and we hope to continue with the current system in which the community and volunteers support the maintenance of the Trail. That is the goal of the Shin-etsu Trail Club, so we invite you to join with us in maintaining this wonderful Trail!