Because of changes in the environment, such as shifts in Trail usage or climate change can result in environmental impact without us being aware of them. The natural environment survey is conducted every year, usually in June and July, and looks at everything from the status of rare species such as the Nabekura zazenso skunk cabbage to the status of invasive species to the environment for the creatures living in the Sekida Mountains.

No special knowledge is required to participate, so everyone can join in. It's a chance to look at the natural environment of the Shin-etsu Trail with a different perspective than that of Trail maintenance or even trekking.

It's a great opportunity to learn from experts, and to encounter information that you'd normally never have the chance to meet.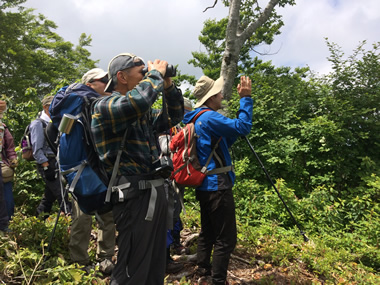 Survey method
Participants will be divided into groups, such as to study insects, plants or birds. Basically it involves one section per day, but if the survey period is lengthened the daily route may be shortened. Each group is accompanied by an expert in that particular field.
Under their guidance, participants write down the flora or fauna encountered during the walk.
Dates and times
Please see the Event/Maintenance Calendar, click on the activity you would like to join, check the contents and fill in the application form. Click to send when completed.
To bring
Clothing appropriate for hiking (long-sleeve shirt, long pants, etc.)
Rainwear
Work gloves (light Japanese cotton gunte will be fine)
Non-slip hiking shoes
Backpack
Lunch
Drinks, one to two liters (especially in summer)
Sunshade (hat, sun umbrella, sunscreen lotion etc.)
Insect repellant
※The survey sheet will be prepared by the Shin-etsu Trail Secretariat.