Section length: 17.2 kilometers; Time required: approx. 7 – 8 hours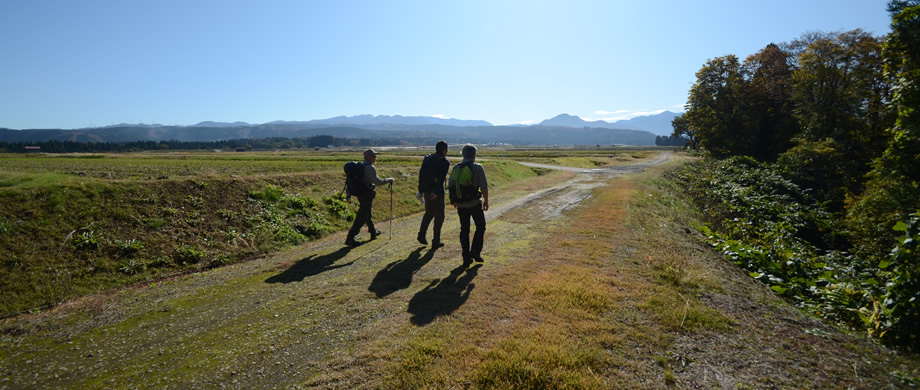 Section highlights
The section travels at the base of the Mt. Naeba Geopark, with interesting fluvial terraces and lava formations resulting from eruptions on Mt. Naeba. Encounter people and lifestyles shaped by the dynamic natural world created by the mountain. This section is largely farm roads and paved road, and heads toward Akiyama-gō through open countryside and pastureland.
0km
17.2km
JR Mori-Miyanohara Station; Kizuna, the Sakae Village Reconstruction Memorial Hall<289m>
0.5km
16.7km
Shinetsu Sakae Michi no Eki<275m>
1km
16.2km
Miyanohara Bridge<252m>
1.2km
16km
Kamigō Elementary School
9.9km
7.3km
Myōhō Pasture Office<705m>
15.7km
1.5km
Azuki Jizo<935m>
Key points
point

1

This is the longest single section on the Shin-etsu Trail. Toilet facilities are only available at the start and end of the section, so act accordingly!
point

2

Long sections are on paved and farm roads with little or no shade. Take measures to prevent overheating in summer.
point

3

Do not enter the pasturelands, and stay away from the cows.
Milestones
Mori-Miyanohara Station
The northern gateway to the Sekida Mountains. Station on the JR Iiyama Line, which connects Nagano City with Nagaoka City in Niigata. Accessible by bus from Echigo-Yuzawa Station. Shops, parking and toilets are available in front of the station. Kizuna, the Shin-etsu Trail visitor center, is next door.
Nakago
Accessible by bus from Tsunan Station. No parking or toilets.
Kettō
Parking and toilet available. Accessible from Tsunan Station area by car or shared taxi.
Accommodations
Tent site
Accommodations
on the trail, within walking distance of the trail
Tomato no Kuni, Nakajō Onsen
Nōka Minshuku Higashi inn
Katakuri no Yado, Akiyama-gō Onsen
Moegi ni Sato, Kettō Onsen, Akiyama-gō
off-trail accommodations
matsunoyama onsen
echigo tanaka onsen
Sakasamaki Onsen
Echigo-Tsumari Daigonji Kōgen Campsite
information on the trail and nearby facilities