Section length: 8.5 kilometers; Time required: approx. 5-6 hours (not including the approach from the summit of Mt. Naeba)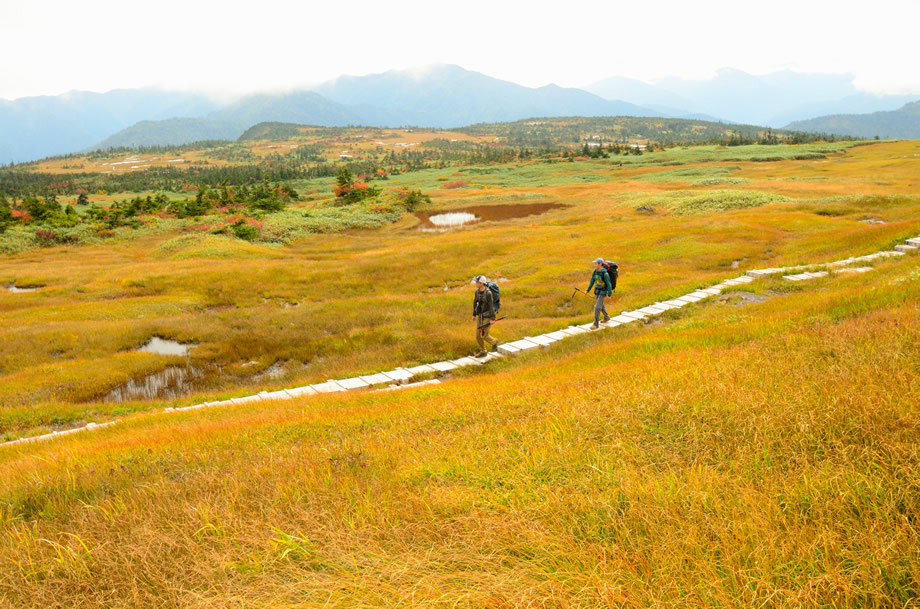 Section highlights
The route travels from villages in a deep valley to Alpine marshes—the change in elevation is some 1,350 meters. This is a section that requires knowledge in mountain climbing, and good physical strength.
1.5km
7km
Mt. Naeba trailhead, ichi gōme (first station)<933m>
Mt. Naeba Nature Experience Exchange Center (Naeba summit hut)
8.5km
0km
Mt. Naeba<2145m>
Wada Goya hut

Haraigawa Trailhead
Akayu Onsen

Motohashi Trailhead
Komatsubara wetland
Mikura
Key points
point

1

This is a real mountain-climbing section, as the summit is more than 2,000 meters above sea level. You'll need good climbing gear and the physical strength to carry it and get up the mountain. The first snow each year is around the beginning of October; snow will remain until early July.
point

2

There are steep ups and downs from the third station up to the summit of Mt. Naeba. There is also a section that is climbed using fixed chains. Consider your physical fitness level, and careful plan for the section.
point

3

Make a reasonable plan for the climb. Doing the round trip to the summit in one day, or completing the section from Koakazawa to the Mt. Naeba summit and then on to the Kaedegawa trailhead (toward Echigo-Yuzawa) in one day will take time and considerable strength. Staying at the mountain lodge at the summit is recommended.
Milestones
Tonenbo, the Sakae Akiyama-gō Information Center
The starting point for sections 9 and 10, depending on hiking direction. An exhibition introduces the history and culture of Akiyama-gō. Toilet and parking available.
Third station, Mt. Naeba
Large parking lot and toilet available. There are many people climbing Mt. Naeba, so it can be crowded on weekends from July to September.
Naeba summit hut
A mountain lodge near the summit, Open from June to late October.
Haraigawa trailhead
The most popular starting point for climbing Mt. Naeba. This is the recommended route for the section between Echigo-Yuzawa Station and the Shin-etsu Trail. Accessible by car or taxi from Echigo-Yuzawa Station.
Motohashi trailhead
Trail begins here for the summit of Mt. Naeba via Akayu Onsen. Several sections of fixed climbing chains. This is an advanced route, with few climbers. Accessible by bus from Echigo-Yuzawa Station (Minami-Echigo Kanko Bus) or taxi. Accommodations are available at Akayu Onsen.
Accommodations
Tent site
Accommodations
on the trail, within walking distance of the trail
Koakasawa Village
Mt. Naeba summit hut
Akayu Onsen
off-trail accommodations
Echigo-Yuzawa
Mimata pension area
information on the trail and nearby facilities