Section length: 7.2 kilometers; Time required: approx. 4 – 5 hours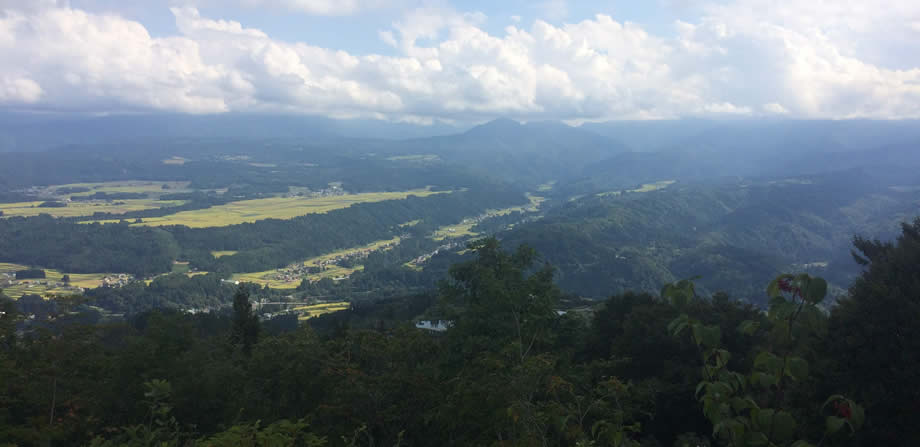 Section highlights
This section links the Sekida Mountains to the foothills of Mt. Naeba, and passes over mountains and through villages. Satoyama Deai is the border, as the Trail changes from a mountain path to paved road. The beech forest near the Matsunoyama trailhead is off the main Trail, but is very beautiful and well worth a side trip.
7.2km
0km
JR Mori-Miyanohara Station; Kizuna, the Sakae Village Reconstruction Memorial Hall<289m>
Key points
point

1

The section includes a long descent from Mt. Amamizu, then a long, continuous climb from Mori-Miyanohara Station.
point

2

Along with Section 6, this will see snow lingering longer than anywhere else on the Trail. Always check in springtime before heading out.
point

3

The section on paved road slopes, and it's easy to strain the knees. Walk slowly, and take plenty of breaks!
Milestones
Matsunoyama trailhead
Parking space is available here for about three cars. A simple toilet is available.
Satoyama Deai
Located in the middle of Section 7; on the north side is mountain trail, to the south is paved road. Can be accessed by car from Mori-Miyanohara. Parking space for two cars.
JR Mori-Miyanohara Station
The northern gateway to the Sekida Mountains. The station is on the JR Iiyama Line, which links Nagano City to Nagaoka City in Niigata. It can also be accessed by bus from Echigo-Yuzawa Station.
Accommodations
Tent site
Accommodations
on the trail, within walking distance of the trail
Echigo-Tsumari Daigonji Kōgen Campsite
Area around Mori-Miyanohara Station
off-trail accommodations
matsunoyama onsen
echigo tanaka onsen
Tomato no Kuni
information on the trail and nearby facilities