Car Forwarding Service
While you hike the Shin-etsu Trail, this service will take your car to a point along the Trail for you. For more information, please contact the service company directly. Reception for the service begins (generally) at 8:30 am. A separate surcharge will be applied if an early start time is required (tax not included in fees below).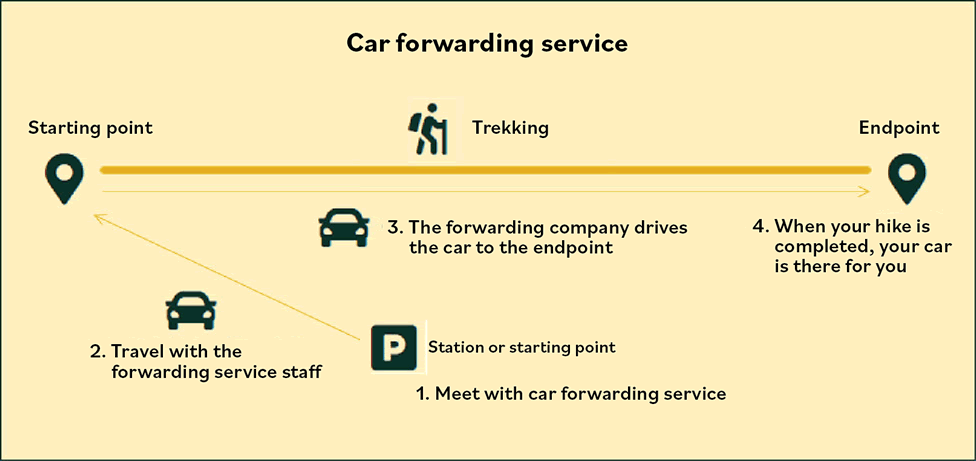 Using the forwarding service
Step 1: Contact the forwarding service at least two days prior to the date of usage to confirm date, times and method; make the reservation.
Step 2: Meet with the forwarding company at the agreed-to point, date and time.
Step 3: Drive with the forwarding company representative to your starting point.
Step 4: After leaving your car at the starting point, the forwarding company staffer will drive the car to the endpoint
Step 5: When the car has been parked at the endpoint, the forwarding company will contact you by mobile phone.
Step 6: When you're finished hiking, your car is there waiting for you!
Note: When using the parking lot of a particular facility as your endpoint, be sure to contact the facility in advance to gain permission. Without permission, the facility may report your vehicle to local police as a suspicious vehicle.
Car forwarding company
Iiyama Daiko Center
TEL:0269-67-2351
E-mail: kitashinanokosan@iiyama-catv.ne.jp
Web: http://www.iiyama-catv.ne.jp/~kitashinanokosan/page013.html
Service fees
Start
Goal
Meeting up place
Fee (JPY)
Madarao Kogen area
Madarao Kogen area
Madarao Kogen Yama no Ie
5000
Wakui district (R292)
6000
Katsura Ike pond
7000
Togari Onsen Snow Resort (Tondaira)
7000
Sekida Toge pass
8000
Maki Toge pass
9000
Busuno Toge pass
10000
Misaka Toge pass / Nonomi Toge pass
11000
Satoyama Deai
13000
Wakui district (R292)
Madarao Kogen area
JR Iiyama Station or Madarao Kogen Yama no Ie
or
Madarao Kogen Yama no Ie
6000
Katsura Ike pond
6000
Togari Onsen Snow Resort (Tondaira)
6000
Sekida Toge pass
7000
Maki Toge pass
8000
Busuno Toge pass
9000
Misaka Toge pass / Nonomi Toge pass
10000
Satoyama Deai
11000
Katsura Ike pond
Madarao Kogen area
JR Iiyama Station
7000
Wakui district (R292)
6000
Togari Onsen Snow Resort (Tondaira)
6000
Sekida Toge pass
7000
Maki Toge pass
8000
Busuno Toge pass
9000
Misaka Toge pass / Nonomi Toge pass
10000
Satoyama Deai
11000
Togari Onsen Snow Resort (Tondaira)~
Madarao Kogen area
JR Togari-Nozawa Onsen Station
7000
Wakui district (R292)
6000
Katsura Ike pond
6000
Sekida Toge pass
6000
Maki Toge pass
7000
Busuno Toge pass
8000
Misaka Toge pass / Nonomi Toge pass
9000
Satoyama Deai
10000
Sekida Toge pass
Madarao Kogen area
JR Togari-Nozawa Onsen Station
or
abekura Kogen Mori no Ie
8000
Wakui district (R292)
7000
Katsura Ike pond
7000
Togari Onsen Snow Resort (Tondaira)
6000
Maki Toge pass
6000
Busuno Toge pass
7000
Misaka Toge pass / Nonomi Toge pass
8000
Satoyama Deai
9000
Maki Toge pass~
Madarao Kogen area
JR Togari-Nozawa Onsen Station
or
Nabekura Kogen Mori no Ie
9000
Wakui district (R292)
8000
Katsura Ike pond
8000
Togari Onsen Snow Resort (Tondaira)
7000
Sekida Toge pass
6000
Busuno Toge pass
6000
Misaka Toge pass / Nonomi Toge pass
7000
Satoyama Deai
8000
Busuno Toge pass~
Madarao Kogen area
JR Kuwanagawa Station
or
Nabekura Kogen Mori no Ie
10000
Wakui district (R292)
9000
Katsura Ike pond
9000
Togari Onsen Snow Resort (Tondaira)
8000
Sekida Toge pass
7000
Maki Toge pass
6000
Misaka Toge pass / Nonomi Toge pass
7000
Satoyama Deai
8000
Misaka Toge pass / Nonomi Toge pass~
Madarao Kogen area
JR Kuwanagawa Station
or
Nabekura Kogen Mori no Ie
11000
Wakui district (R292)
10000
Katsura Ike pond
9000
Togari Onsen Snow Resort (Tondaira)
9000
Sekida Toge pass
8000
Maki Toge pass
7000
Busuno Toge pass
7000
Satoyama Deai
6000
Satoyama Deai~
Madarao Kogen area
13000
Wakui district (R292)
11000
Katsura Ike pond
10000
Togari Onsen Snow Resort (Tondaira)
10000
Sekida Toge pass
9000
Maki Toge pass
8000
Busuno Toge pass
8000
Misaka Toge pass / Nonomi Toge pass
6000