Section length: 8.5 kilometers Time required: approx. 5 to 6 hours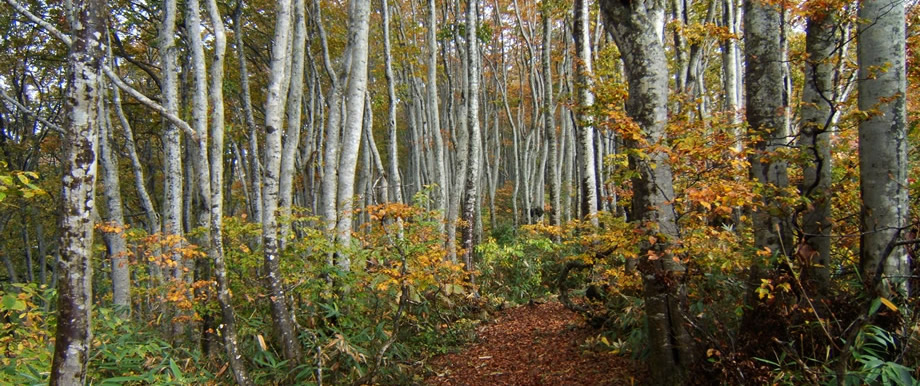 Section highlights
The center of the Sekida Mountains part of the Shin-etsu Trail, with a series of ups and downs toward the main peak, Mt. Nabekura. The section features beautiful beech forests, and excellent views of the Iiyama basin and the Sea of Japan.
0.0km
8.2km
Tondaira




1.8km
6.4km
Hotake ga Mine <1146m>
2.3km
5.9km
Kozawa Tōge pass
Tondaira




5.8km
2.4km
Kuguno Tōge pass
Kyoboku no Tani ("Valley of Giant Trees)
7.3km
0.9km
Dōgata Tōge pass
Yoshihachi Ike pond


、Karayama trailhead

Key points
point

1

Be careful when hiking the section around signpost 4-6, from the beech forest to the summit of Mt. Nabekura, as the rises and falls are severe, and there are many sharp-edged ridges.
point

2

There are many steep and slippery slopes in the section from Mt. Nabekura to the Kukuno Tōge pass; the terrain is muddy, so be careful while hiking here.
Milestones
Hotoke ga Mine trailhead
About 20 to 30 minutes from the Tonpei slope of Togari Onsen Ski Resort.
Kozawa Tōge pass
The Trail on the Niigata side leads to Yoshihachi Ike pond, while the Nagano side leads to the Tonpei slope
Kuguno Tōge pass
On the way to the Nagano side is the "Valley of Giant Trees," including the famous giant Moritarō. On the Niigata side is Yoshihachi Ike pond and Karayama-guchi.
Sekida Tōge pass
Parking available. A 20-minute walk on the Niigata side to Green Pal Kōgen-sō, location of the visitor center and tent site.
Accommodations
Tent site
Accommodations
on the trail, within walking distance of the trail
Tondaira tent site
Green Pal Kōgen-sō, Hikari ga Hara campground
Note: In the Tondaira area, the Togari Onsen Hoshifuru (Starry) campground is also available.
off-trail accommodations
Eshin no Sato, Yasuragi-sō
Kukuno Inn
Togari Onsen area
information on the trail and nearby facilities