Parking lot and tent sites at Tondaira

Tondaira Tent Site is operated and managed by Shin-etsu Trail Club as hikers' tent site, renting a section of land from Togari Onsen Hoshifuru Campground. However, recently there have been a large number of visitors to Hoshioru Campsite for the purpose of camping, in addition to hikers.

For this reason, tent sites and parking spaces for Shin-etsu Trail hikers may be temporarily changed on weekends and consecutive holidays when the number of campsite users increases.

Also, please check below for the restrooms, as they may be temporarily unavailable due to repairs or inspections of the facility.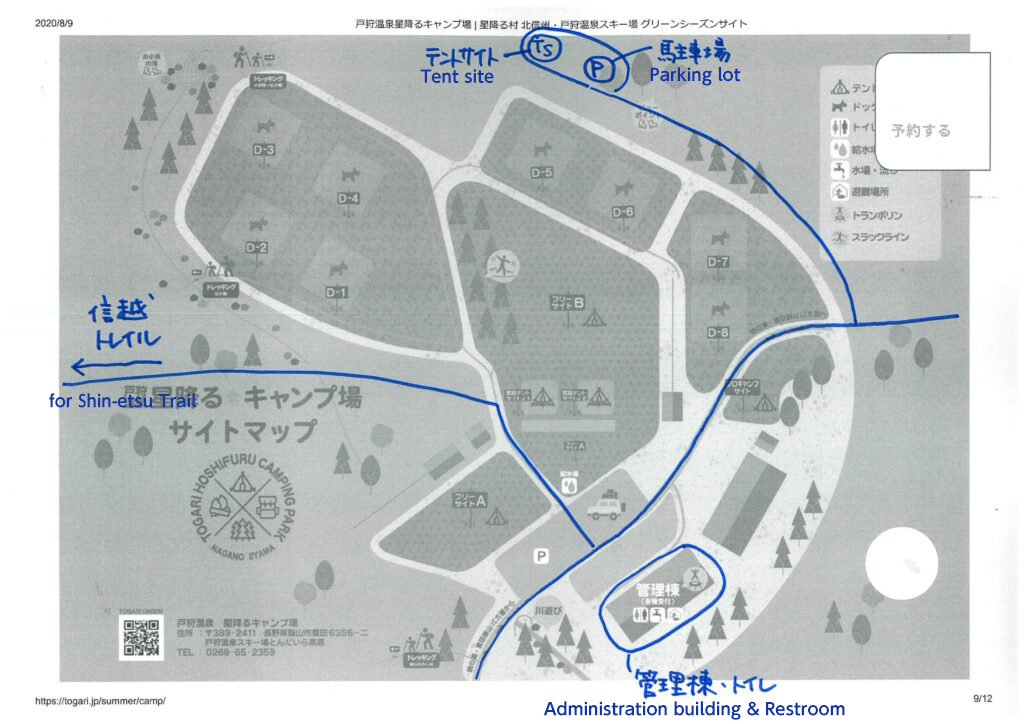 ■For those who use the parking lot
Please use the parking spaces shown in the map above.
The back of the lot (mountain side) is reserved for tents, so please park in the front of the lot.

■For tent site visitors
When the "Foshifuru Campground" is open, a caretaker will be on duty (9:00-16:00). Before pitching your tent, please stop by the administration building and declare that you will be using a Shin-etsu Trail tent site.
Please see the map above for tent site spaces.
If the "Hoshifuru Campground" is closed, such as on weekdays, please use the regular Shin-etsu Trail tent sites. In such cases, you do not need to declare your use at the site.

■Using the Restrooms
Restrooms are located in the Administration Building (available 24 hours a day, in principle).
However, as of August 29, the pumping motor for the restrooms is not running smoothly. Therefore, please be aware that the restrooms may not be available on weekdays when using the tent sites due to maintenance and inspections of the motors.