A hiker who took on long trails overseas moves to Iiyama
5. Eiji Suzuki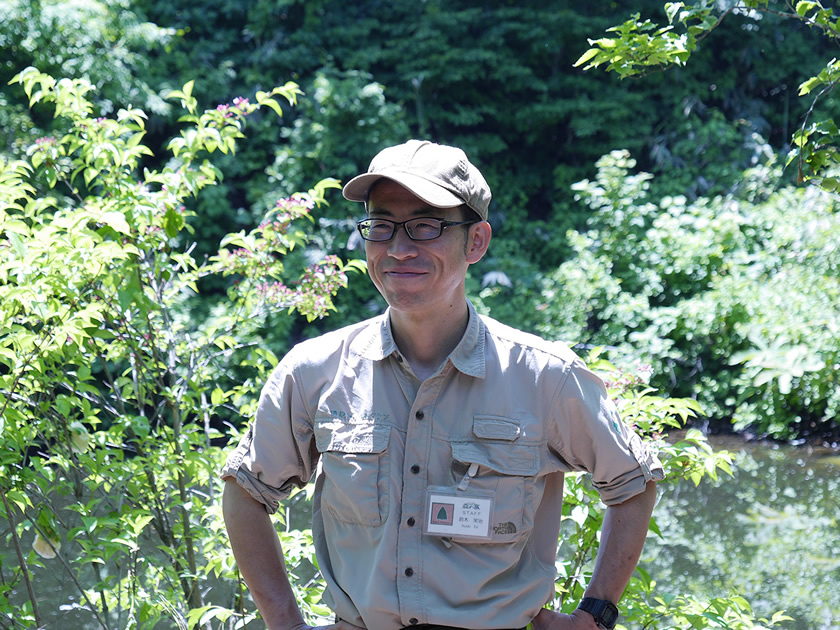 After through-hiking the 3,500 kilometers of the Appalachian Trail, Eiji Suzuki began work as a Shin-etsu Trail Club staff member
The three major long trails of the US are thousands of kilometers in length, and take almost half a year to complete. One Japanese hikers who through-hiked one of the long trails in the US returned to Japan, moved to Iiyama and is now working as a Shin-etsu Trail staff member.
Q: What thoughts did you have that made you choose to live at the base of the Shin-etsu Trail. Not from the view of walking it, but what's it like to live near it as a staff member?
Suzuki: Being in the trail world but having this different position was natural for me. When I was walking the long trail, nature was much closer. But there is still nature in my life now.
Q: Why did you decide to move to Iiyama and become a Shin-etsu Trail staff member?
Suzuki: A Shin-etsu Trail staff member called me, so I decided to move here. After hiking the long trail, coming to Iiyama was, in a sense, a natural process. While I was hiking the American trail I did participate in trail maintenance. Rather than being a volunteer, I wanted to do this kind of work, and I think it's natural that people who have hiked the Trail naturally want to move into the position.
6. Yukiko Sato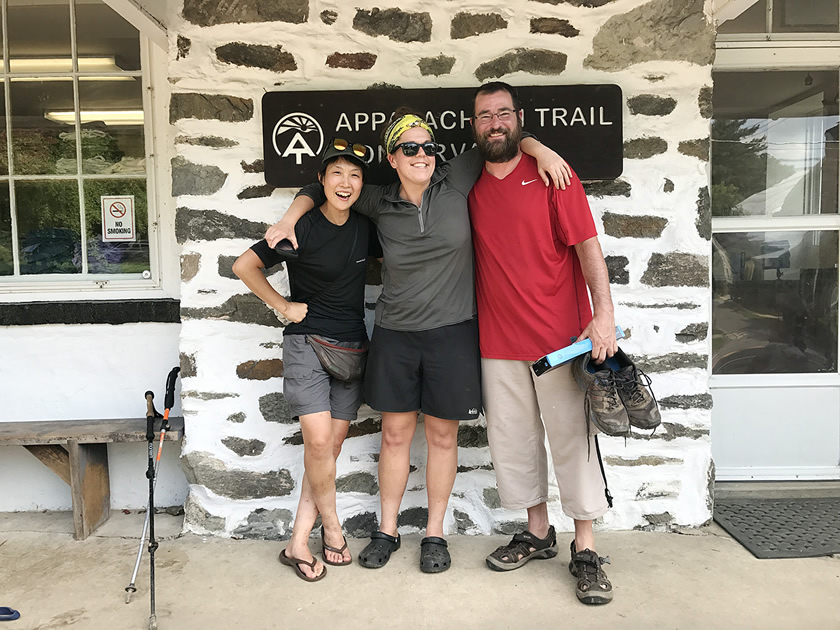 Like Suzuki-san, Yukiko Sato (at left in photo) was a through-hiker of the Appalachian Trail
Q: What did you want to achieve on the Shin-etsu Trail, based on your experience walking on the US trail?
Sato: Based on my actual experiences thinking the long trail in the US, I wanted to create a trail unique to Japan.
Q: What would that involve?
Sato: The Shin-etsu Trail was originally based on the structure of the Appalachian Trail, but when I actually hiked it I was surprised at the quality of the management system, and the mature culture of the Trail. It doesn't have to be a complete copy, but it needs to suit the Japanese environment and culture, and this is something I want to continue to actively incorporate.
A desire to protect the regional nature and culture
7. Kenjo Tamura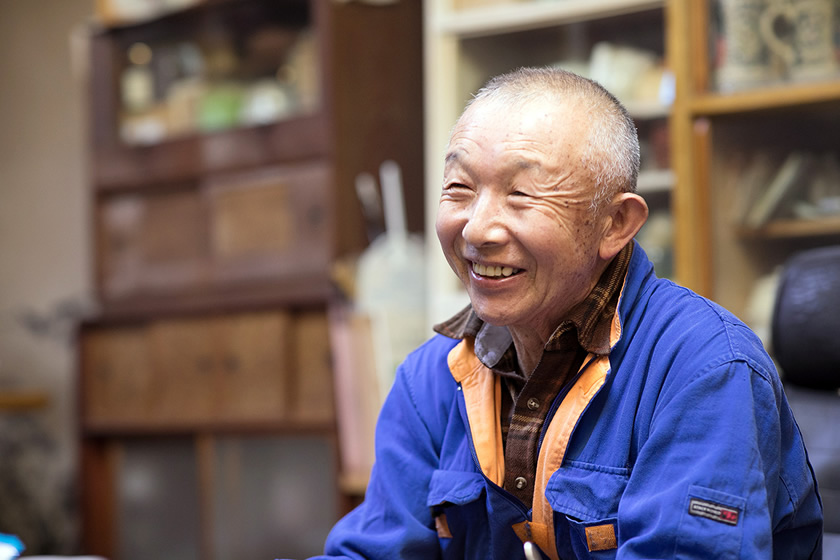 Serving as a director of the Mt. Kuroiwa National Monument Conservation Council, Kenjo Tamura is involved in regional nature conservation and management
The last two interviewees, Kenjo Tamura and Kazuhiko Maruyama, spoke about their feelings for the nature and culture of the Sekida Mountains.
When building the Shin-etsu Trail, the path passed through Mt. Kuroiwa, a natural monument, which was a major concern. "Mountains can be protected by human hands," Tamura-san says, "so it's good to have a trail."
Q: We understand that, even before the Shin-etsu Trail was built, Mt. Kuroiwa was being preserved.
Tamura: Mountains are no longer the workplace of many people, are they? People used to get firewood and burn charcoal there, but no one does now. If there are no people in the mountains, the mountains become a free-for-all. That's why I started to do cutting of vegetation. Mt. Kuroiwa was designated as a national monument in 1971. It's a special place, one of the only ones where the rare Luehdorfia japonica butterfly, which inhabits western Japan, coexists with the Luehdorfia puziloi butterfly, found in eastern Japan. That's why researchers and insect enthusiasts were catching butterflies—so I started to patrol the area.
Q: What happened when you decided to hike the Shin-etsu Trail?
Tamura: The fact that we were able to establish the Mt. Kuroiwa National Monument Conservation Council is really thanks to the Shin-etsu Trail. Even if you do care for the mountains, that won't generate money, and volunteers alone can't make it. Because the Trail was created, people enter the mountains now, and a system for managing and maintaining them has been created.
8. Kazuhiko Maruyama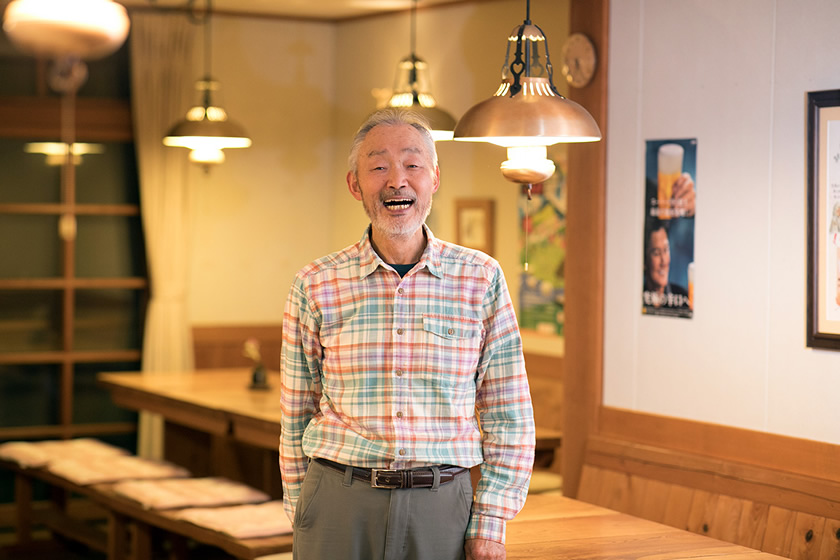 Hotel owner, Shin-etsu Trail Inn member and Trail guide Kazuhiko Maruyama
Maruyama-san is originally from Niigata Prefecture; after living outside the prefecture, he returned to his hometown at the age of 39, and now runs a small pension hotel in Madarao. He read one of Noriyoshi Kato's articles, and became interested in the Shin-etsu Trail idea.
Q: What were you interested in, after reading Kato-san's piece?
Maruyama: I read Kato-san's ideas on protecting nature, and I was really moved and felt that this is important. Prior to that, there was the opposition of local people to logging in the Sekida Mountains, something else that was on my mind.
Q: You've been involved with the Shin-etsu Trail for a long time, both as the owner of a member inn and as a guide.
Maruyama: I was really happy when the Shin-etsu Trail was completed, and I really felt that I'll support it no matter what happens. I was born and raised right on the border of Niigata and Nagano, a place where, long ago, entertainers would come over the passes, and lots of people were coming and going. But now many of the roads I walked when I was young are gone, and the village where I was born is almost empty—it's soon going to disappear.
With the creation of the Shin-etsu Trail, the local satoyama culture, something you'd just see form your car while passing through, was know something you could contact directly on foot. Making the Trail has also meant that people can connect with the allure of the area, I feel.
Long trails are, in a sense, a collection of the thoughts, personalities, experiences and special skills of local people.
Local people who identify with the idea of a long trail have gathered to create and then protect the Trail. Meeting the nature and the people of the area means you're also traveling through the way of life and culture as well.
トレイルカルチャーを発信するウェブマガジン。
TRAILS(トレイルズ)はトレイルで遊ぶことに魅せられた人々の集まり。トレイルに通い詰めるハイカーやランナーたち、エキサイティングなアウトドアショップやギアメーカーたちなど、最前線でトレイルシーンをひっぱるTRAILSたちが執筆、参画する日本初のトレイルカルチャー・ウェブマガジン。
有名無名を問わず世界中のTRAILSたちと編集部がコンタクトをとり、旅のモチベーションとなるトリップレポートやヒントとなるギアレビューなど、独自の切り口で発信。 https://thetrailsmag.com
INDEX