A rebellious spirit. Student activism and baptism into counterculture
Kato-san's awareness of world problems was awakened when he was in college. He entered Waseda University in 1968, in the school of Political Science and Economics, majoring in international politics. He was known in his college days as a "journalist-minded backpacker," something that would become his core characteristic.
During his time in school, the counterculture movement was at its peak, including the Vietnam anti-war movement, school conflict in Japan, the hippie movement and more. Many people, particularly the young, were shouting no to the world's mainstream social and political ideals and values. Kato-san was in school in the middle of all this, and he became more conscious of the world and society.
"I was a nature and mountain lover, and I wasn't very aware of social issues until high school and just lived a peaceful life," he wrote. "What changed me was when I entered university and witnessed student activism, and it was then that I began to educate myself in raising awareness about the social issue around me."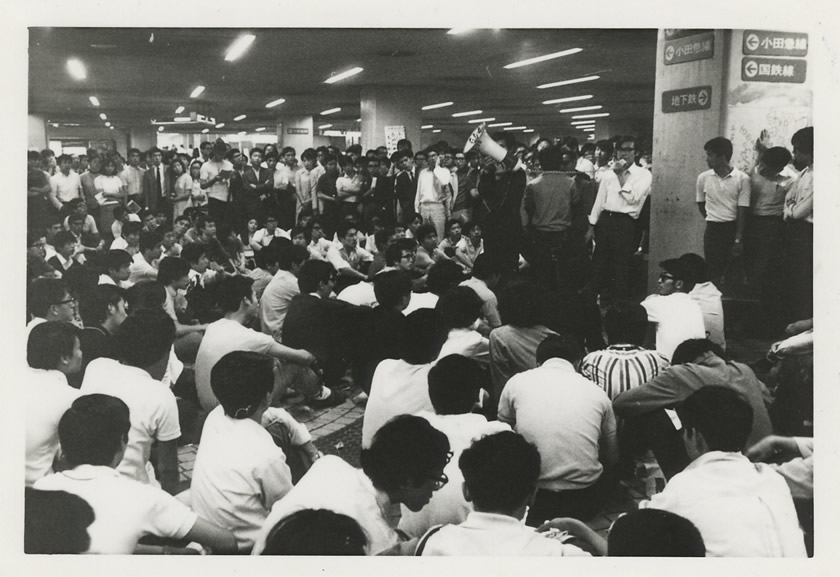 Famous anti-war rally at Shinjuku Station, Tokyo, in the 1969 (photo courtesy Shinjuku Historical Museum)
Kato-san's brother Masayoshi, one year younger, was also in the same environment. He also saw a famous anti-war rally at Shinjuku Station in 1969 (see photo).
"I think it was a Wednesday," he says, "but one day as I thought about going home through an underground passage at Shinjuku Station, there was a guy singing and playing guitar in a corner of the area. He was doing anti-war folk songs and satirical parody tunes. At first there weren't that many people there, but when it was featured on the TV news suddenly there were thousands of peoples, with different political faction coming in wearing their own helmets—the situation got very noisy!
"Eventually a large number of riot police came in and shot tear gas into the circle of young people singing songs, and there were lots of injuries and lots of arrests—they shut down the event in the station. From that point, they really suppressed the energy of the anti-war and anti-establishment movement nationwide, and I thought that we had passed a major turning point toward the end of an era."
Noriyoshi Kato also lived through a materialistic period when he was young, one of the economic miracles of Japan and the environmental destruction that accompanied it. He became more aware of needing to resist this world, and his later works on national parks and nature conservation strongly reflect his critical and rebellious stance.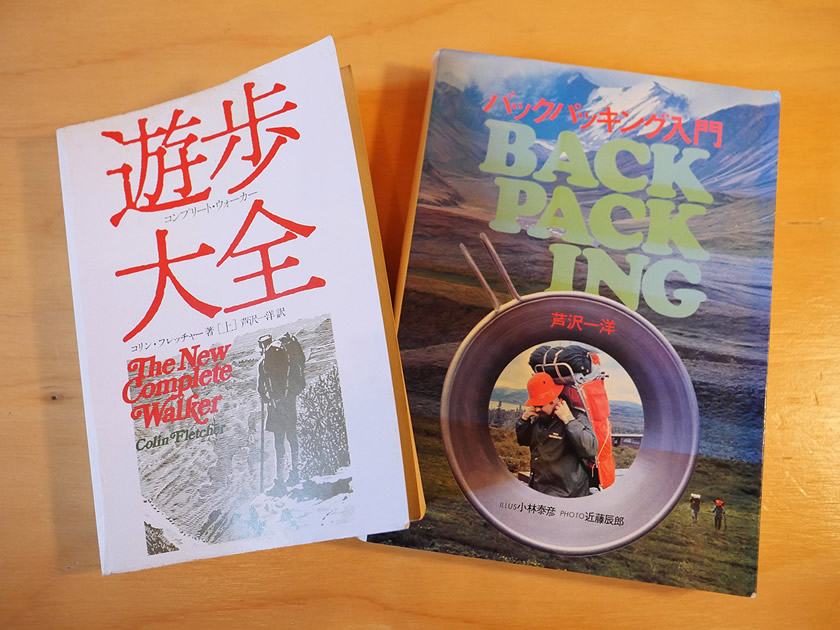 Colin Fletcher's The New Complete Walker, a backpacker's bible published in 1969, and Kazuhiro Ashizawa's Backpacking, published in 1976.
The latter part of the 1960s and the 1970s were the period when American backpacking culture entered Japan, with the concept of "Return to Nature." Kato-san was strongly influenced by backpacking when he was young. He was born in 1949, but there were several outdoor writers a decade older than him: Kazuhiro Ashizawa (born 1938), Tomosuke Noda (1938) and Yasuhiko Kobayashi (1935), all part of a generation also influenced by backpacking culture. In turn, they created the outdoor boom in Japan in the 1970s and 80s. Kato-san became known as a backpacker and nature writer who began talking about long trails form the latter half of the 1990s.
His awareness of social themes sprouted during his school days, along with the rebellious spirit of pursuing what we believe in, not just the mainstream, all of which, after the passage of time and the maturing of his thinking, came to fruition well after the age of 40 in his life's work in long trails.
The dream of a long trail for Japan comes true with the Shin-etsu Trail
From 1998 to 2001, before the Shin-etsu Trail concept began in earnest, Kato-san published a series of articles on long trails in Outdoor magazine. Kato-san himself said that few people were interested in long trails at that time. However, Kato-san's articles focused on new looks at what it would be like to hike in Japan on a long trail. And, at that time, there was no real long trail in Japan.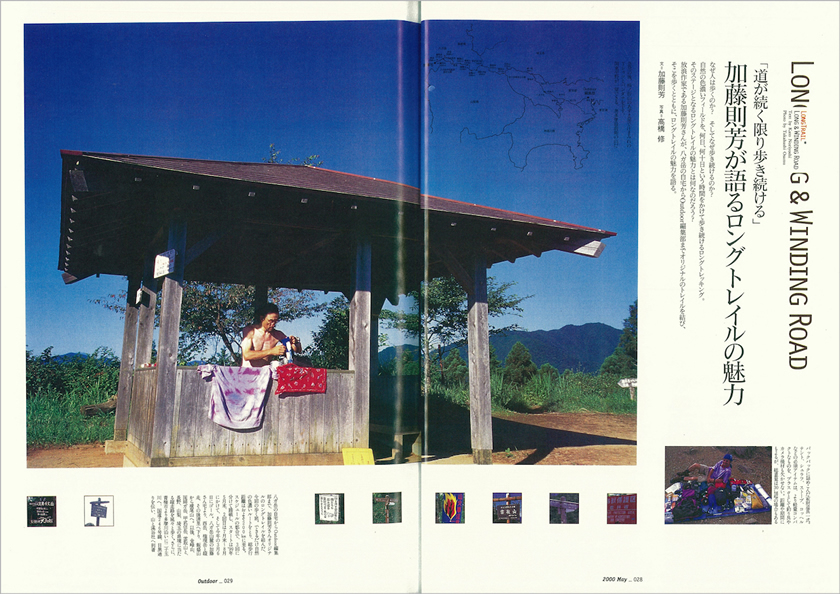 A May 2000 issue of Outdoor magazine with one of a series of Kato-san's articles on long trails and Japan
In various places in Japan, Kato-san drew a route by himself and hiked it, announcing this as "Long trail trip in Japan." One was from his house at the foot of Mt. Yatsugatake, across the Chichibu Mountains to the northwest of Tokyo, then along the Ome and Tama Rivers to Shinbashi in Tokyo. Before the opening of the Shin-etsu Trail, another course went from Mt. Tanigawa on the border of Gunma and Niigata prefectures, to Mt. Naeba, then from Akiyama-gō to Shiga Kogen, a journey covering parts of today's Shin-etsu Trail and likewise tracing the mountains and villages. Another was a journey from Honshu Island to Shikoku Island, and yet another was an immersion in the nature and culture of Kyushu Island along a 400-kilometer route.
All this happened around the eve of the birth of the Shin-etsu Trail, as Kato-san, exploring the possibility of a long trail for Japan, went on this series of journeys.
While continuing these, he met the Shin-etsu Trail in 2001. This was when the Sekida Mountains Trekking Route, the project preceding the Shin-etsu Trail, began. "I felt that the thoughts I had were going to be realized—it was fate," he said. His obsession brought his dream to reality.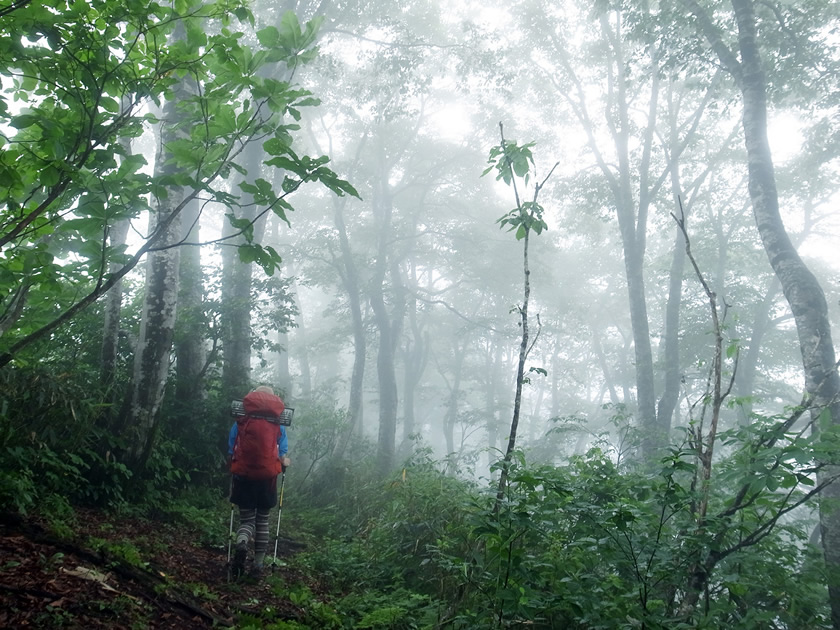 A view on the Shin-etsu Trail, Japan's first long trail, preserving nature through a public-private partnership maintenance system
Here, as for the Appalachian Trail, there should be an understanding of the philosophy of prewerving the local ecosystem, making a Trail that private organizations and citizen volunteers manage and operate. It also should be a Trail that is a place for the nature education of children. The land where all this could happen was in the Iiyama area, where the Shin-etsu Trail was about to be built.
Kunitake Koyama, the mayor of Iiyama City, Nagano at the time, took a leadership role in the effort to create a trail through public-private partnerships. The local people were very conscious of the need to protect the local ecosystem. A history of coexistence between people and nature remains in the Sekida Mountains. This made it the ideal environment for creating a long trail (for more detail, see Shin-etsu Trail Stories No. 2).
The long trail in Japan that Kato-san had long sought was to be realized in the Shin-etsu Trail. In 2008, when Kato-san was 59, the original 80-kilometer course was opened. Two years later, at the age of 61, he announced that he had contracted amyotrophic lateral sclerosis (ALS).
The long-trail seeds sown by Noriyoshi Kato take root around Japan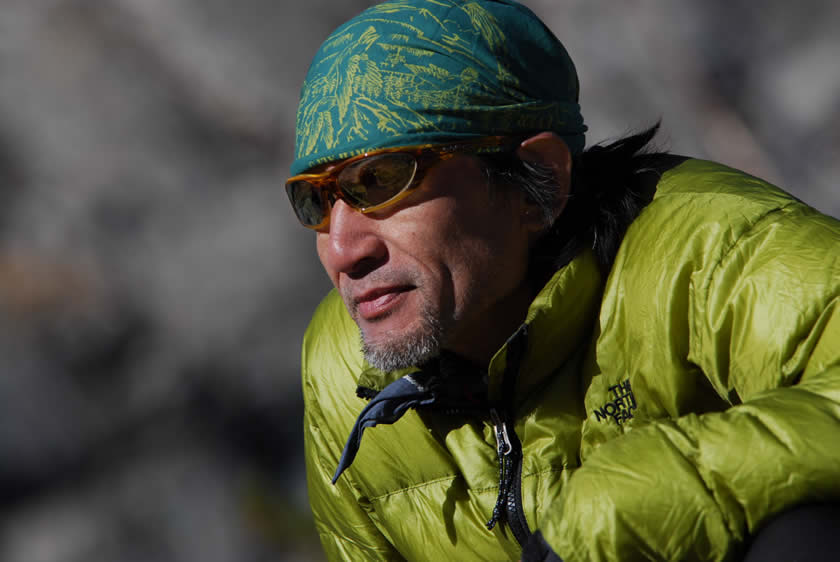 Noriyoshi Kato, during his travel to the John Muir Trail, his sanctuary
The Shin-etsu Trail was born as Japan's first true long trail, and incorporated the concept of nature conservation and maintenance by a public-private partnership. The success of the Shin-etsu Trail gave momentum for the creation of long trails across Japan.
A long-distance nature trail created by the Ministry of the Environment because of a suggestion by Kato-san created a new movement. Kato-san admitted that he made a mistake with the long-distance nature trail: "Building it is fine, but I didn't make maintaining it the most important system." Kato-san also worried about future trails as well, concerned that if long trails, "become a crazy boom, and there are worn-out trails everywhere when the boom is over. I want to avoid seeing trails being built and then left untouched."
There is now an understanding of the essence of Kato-san's proposal, and people who agree with it are now increasing within the Ministry of the Environment. Today on the Kyushu Nature Trail that Kato-san once walked, there is now a restoration project in operation. Actions are being taken: routes are being restored that disappeared due to poor maintenance, trail information including maps are being provided, a system for future redevelopment of the routes are being established and volunteer members are coming together.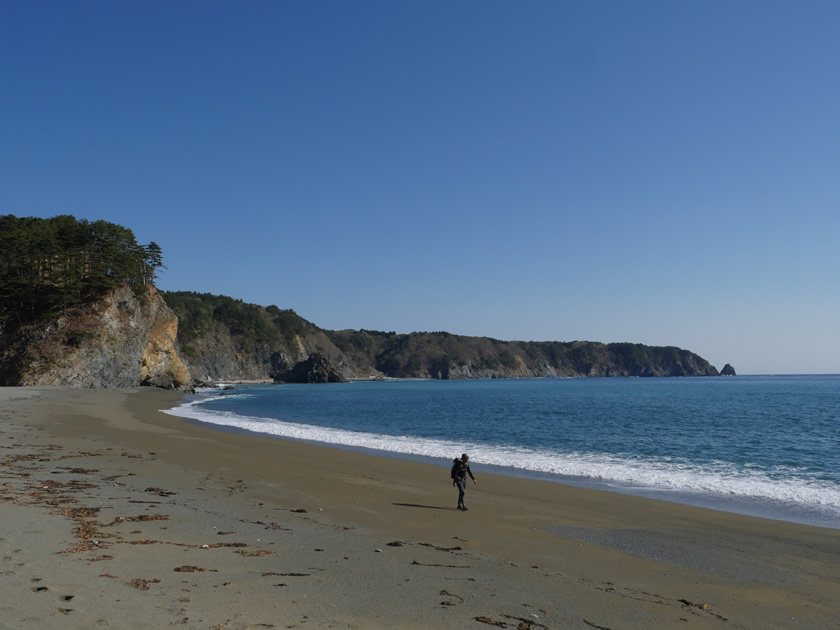 Scene on the Michinoku Coastal Trail, on the Sanriku Coast of northeastern Japan
From about the year 2006—before the 2011 Great East Japan Earthquake and tsunami, Kato-san was also proposing the Sanriku Trail, a long trail for northeast Japan. Today the project will begin in earnest as a priority project of reconstruction following the disaster. Immediately after the earthquake and tsunami, Kato-san fought his illness and visited the Ministry of the Environment, urging the creation of a long trail along the coast as one step in recovery. That is today's Michinoku Coastal Trail, a 1,000-kilometer route from Hachinohe City in Aomori Prefecture to Soma City in Fukushima Prefecture in June 2019.
In fact, some of the Ministry of the Environment staff members who were involved in the project for the restoration of the Kyushu Nature Trail later became core members of the Michinoku Coastal Trail project. Hearing directly from Kato-san about his passion for long trails and nature conservation on the Kyushu Nature Trail, the people who picked up this philosophy are now applying the thinking on the Michinoku Coastal Trail.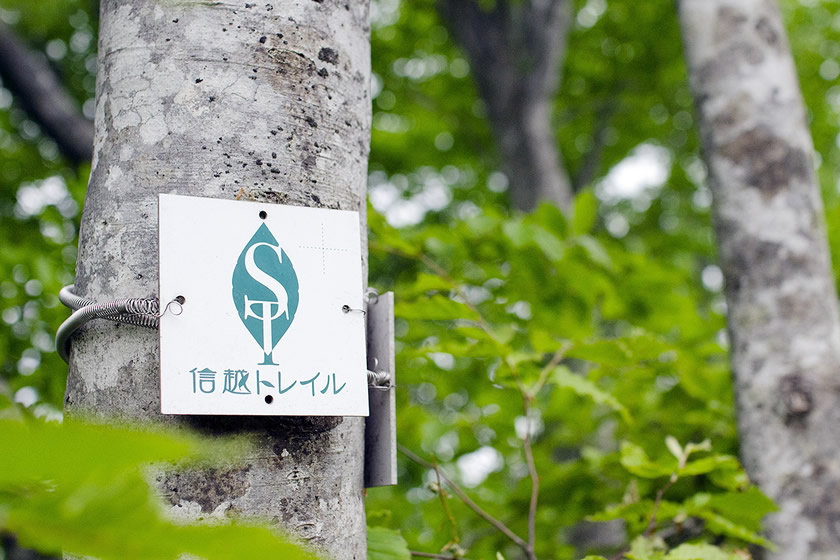 Kato-san continued to talk about and relentless pursue the ideas of long trails and the preservation of nature. At first, nobody really noticed him. However, it wasn't long before the Shin-etsu Trail, the long trail that embodies these ideas, realized them for the first time.
Looking back, the role played by the Shin-etsu Trail is a significant one. Backed by a solid concept and organization, the Shin-etsu Trail, the first true long trail in Japan, became a model for further long trails in the country, which now are being built around Japan.
The birth of the Shin-etsu Trail was the beginning of a new era for long trail culture in Japan. It's all about playing in and moving through nature, learning about the preciousness of natural resources by doing this, and then protecting nature. This is what Kato-san felt long trails could do. The long-trail seeds he spread across Japan are now beginning to sprout and take root.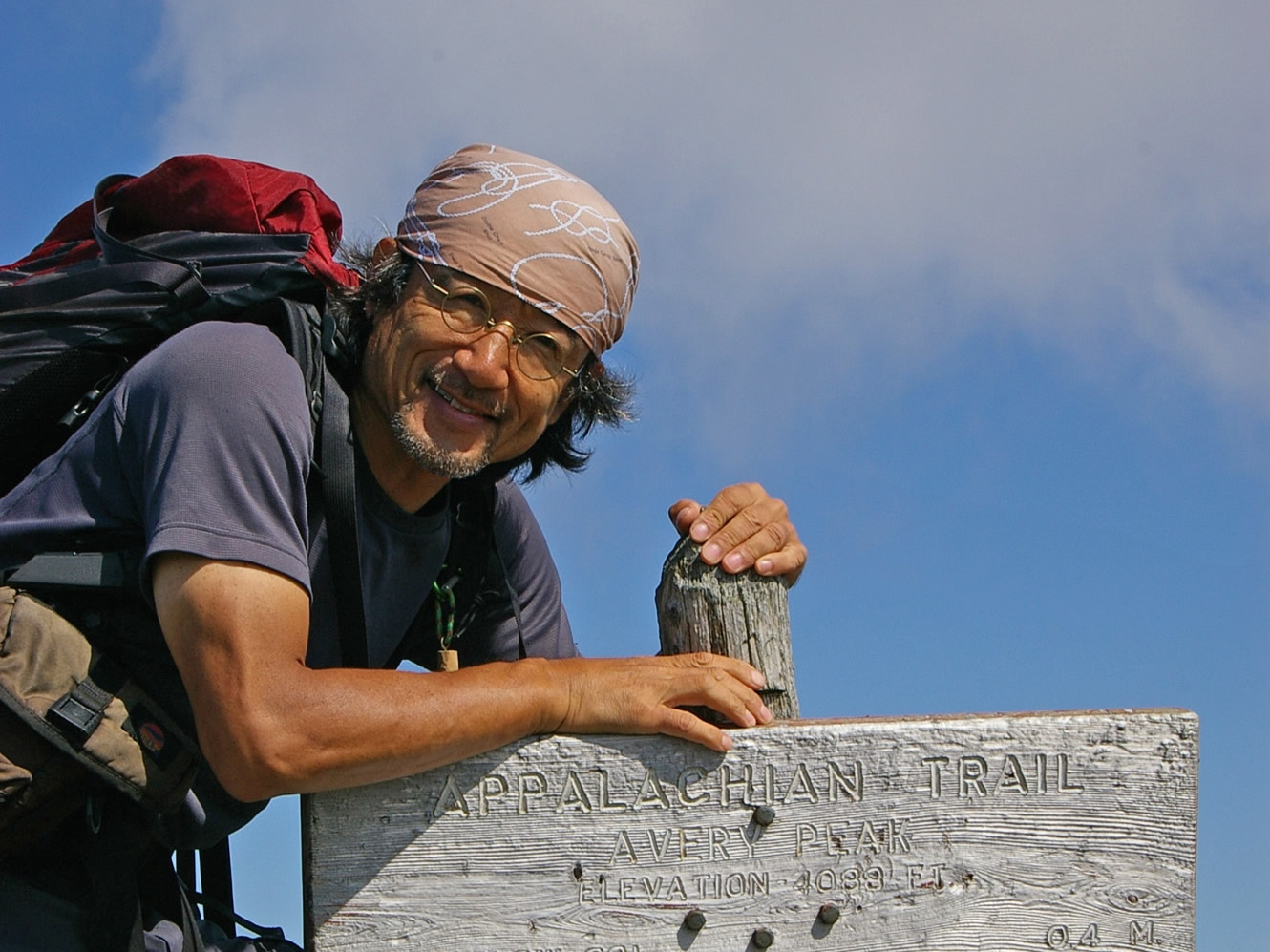 Noriyoshi Kato: June 14, 1949, to April 17, 2013
Trails: web magazine spreading trail culture
Trails was created by a group of people who are fascinated by trails and trail life. Trails was Japan's first trail-culture magazine, writing stories to get hikers and runners rushing out to the trails and introducing exciting outdoor shops, gear makers and more. The Trails editorial team is in contact with people involved with trails all over the world, both famous and unknown, and provide a unique perspective in their trail reports and gear reviews. https://thetrailsmag.com
INDEX